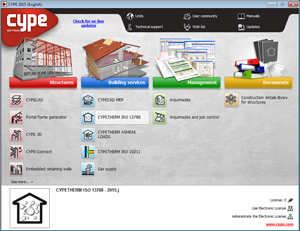 CYPETHERM ISO 13788 (located in the Building Services group of the main CYPE program menu) is an easy-to-use application which allows users to analyse the internal surface resistance factor by taking into account the critical surface humidity and interstitial condensation in construction elements. The program carries out the analysis based on the hygrothermal behaviour of the building materials and products, and in accordance with the analysis method of the ISO 13788: 2012 code.
The main features of CYPETHERM ISO 13788 include:
Analysis in accordance with EN ISO 13788



Known internal humidity
Internal hygrometric class
Humidity production rate
Thermal transmittance analysis in accordance with ISO 6946

Material libraries and catalogues



ISO 10456: 2012
LIDER materials (Spain)
BINAYATE (Morocco)
LNEC (Portugal)
RT 2005 (France)
UNI 10351 (Italy)

Analysis results



Surface condensation

The critical surface humidity is taken into account in the analysis and contemplates the following:



Design to prevent the risk of mildew appearing
Design to prevent corrosion
User defined design

Interstitial condensation

Pressure/temperature graphs



Theoretical vapour pressure
Saturation pressure
Real vapour pressure
Temperatures

Saturated/evaporated accumulated water quantity graphs at interphases
The screen appearance of "CYPETHERM ISO 13788" is similar to that of "CYPETHERM ISO 10211" and "CYPETHERM ASHRAE LOADS". "CYPETHERM ISO 13788" contains three sections which are represented using icons located along the top part of the screen: Location, Construction element and Report.

Location
Here the climate data for internal and external conditions are defined.





Construction element
The construction element is defined in this option by introducing the layers it is composed of.





Report
In this section, users can print or export the report to different formats (text, HTML, PDF, RTF, DOCX. The report contains:


Condensation analysis results
Design hygrothermal conditions
Calculation of the internal surface temperature factor required to avoid critical surface humidity
Interstitial condensation analysis
Annex containing graphs displaying the expected interstitial condensations


To be able to work with CYPETHERM ISO 13788, users simply require the permits to be able to use this program.